Overview
Over-pronation occurs when the foot collapses too far inward stressing the plantar fascia (the area underneath the arch of the foot.) Normally, one pronates every time he/she walks, but excessive pronation is called over-pronation. When this occurs it can cause pain in the feet, knees, hips, low back and even the shoulder.
Causes
Over-pronation is very prominent in people who have flexible, flat feet. The framework of the foot begins to collapse, causing the foot to flatten and adding stress to other parts of the foot. As a result, over-pronation, often leads to Plantar Fasciitis, Heel Spurs, Metatarsalgia, Post-tib Tendonitis and/or Bunions. There are many causes of flat feet. Obesity, pregnancy or repetitive pounding on a hard surface can weaken the arch leading to over-pronation. Often people with flat feet do not experience discomfort immediately, and some never suffer from any discomfort at all. However, when symptoms develop and become painful, walking becomes awkward and causes increased strain on the feet and calves.
Symptoms
Symptoms can manifest in many different ways. The associated conditions depend on the individual lifestyle of each patient. Here is a list of some of the conditions associated with over Pronation. Hallux Abducto Valgus (bunions). Hallux Rigidus (stiff 1st toe). Arch Pain. Heel Pain (plantar Facsitus). Metatarsalgia (ball of the foot pain). Ankle Sprains. Shin Splints. Achilles Tendonitis. Osteochondrosis. Knee Pain. Corns & Calluses. Flat Feet. Hammer Toes.
Diagnosis
Do the wet foot test. Get your feet wet and walk along a paved surface or sand and look at the footprints you leave. If you have neutral feet you will see a print of the heel with a thin strip connecting to your forefoot, but if you're overpronating your foot print will look a bit like a giant blob with toes.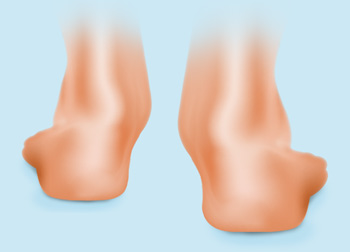 Non Surgical Treatment
One of the best forms of treatment for over pronation is wearing supportive shoes. Shoes should have ample support and cushioning, particularly through the heel and arch of the foot. Without proper shoes, there may be additional strain on the tissue in the foot, greatly contributing to or causing an occurrence of over pronation. Rarely is surgery considered to relieve the pain and damage that may have resulted from this condition. Orthotic shoe inserts are often the easiest and most effective way to correct pronation.
Prevention
Pronation forces us to bear most of our weight on the inner border of our feet. Custom-made orthotics gently redistributes the weight so that the entire foot bears its normal share of weight with each step we take. The foot will not twist out at the ankle, but will strike the ground normally when the orthotics is used. This action of the custom-made orthotics will help to prevent shin splints, ankle sprains, knee and hip pain, lower back pain, nerve entrapments, tendonitis, muscle aches, bunions, generalized fatigue, hammer toes, and calluses.